LEADER IN THE PRODUCTION OF PROFESSIONAL INDUSTRIAL COMPRESSORS
RB series: the new intake valves
VMC has developed a new range of intake valves for rotary screw compressors from 22 to 400KW. A sophisticated synthesis indisputably marked by a Design MADE in ITALY.The new range represents the kernel of an expertise of close contact with our customers for over 20 years as well as our knowledge of a rotative compressor. Development has been supported by cutting-edge software, like the FEM system for the analysis of finished components.
APPLICATION
Installed on the compressor inlet to control compressor capacity. During usual operations, the valve opens and closes in response to a control signal meeting air demand. Stepless or ON-OFF capacity control are available. At shutdown, a check valve remains closed to prevent backflow through the compressor also if the airflow is interrupted.
INSTALLATION
On the suction flange of the air-end, either directly or by flange adaptor, depending on the type of air-end. The valve must be connected to the pressure control and solenoid valve.
MAINTENANCE
Wear-and-tear of valve parts depends on compressor applications and operating parameters. Valve inspection and replacement of worn parts should take place after 8.000 operating hours using VMC's original spare parts kits.
NOTE: The RB series is also available for Natural Gas and Water Lubricated applications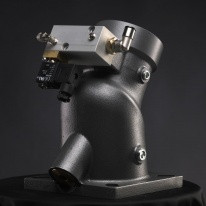 Related document